Invited speakers
Professor Anne Oi-kan Yue 余靄芹,
University of Washington
Professor Benjamin Ka Yin T'sou 鄒嘉彥,
The Hong Kong Institute of Education
Professor Alan C. L. Yu 余梓麟,
University of Chicago
October 30, 2013
WICL2 is going to U Chicago! Please see their website for more details. Abstract submission deadline is December 15, 2013.
March 12, 2012
All abstracts are now available.
March 1, 2012
The finalized program for WICL is now available.
A promotional poster is accessible here: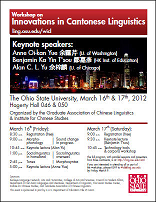 January 24, 2012
Preliminary program is now available. Information on accommodation and transportation is also up.
August 16, 2011
Call for paper is now open. Abstracts are invited for 20-minute presentations related to innovative research in any subfield of Cantonese linguistics and related disciplines.
WICL is supported by the following OSU co-sponsors:
Arts and Humanities, College of Arts and Sciences
Buckeye Language Network
Council on Student Affairs
Department of East Asian Languages and Literatures
Department of Linguistics
East Asian Studies Center
Graduate Association of Chinese Linguistics
Institute for Chinese Studies