Welcome to the 2nd issue of the Department of Linguistics Newsletter! In it, you'll get a glimpse of some of the activities, accomplishments and news of current and former members of the Department. As you'll see, 2007-2008 was an extremely busy and intellectually stimulating year. The Department hosted five workshops and symposia on topics relating to linguistic fieldwork, semantics, code-switching, variation, and indigenous languages of the Americas. We were also fortunate to have invited speakers from OSU and elsewhere including Emmon Bach (UMass, Amherst & SOAS), Mahe' Ben Hamed (Lyon), Kathryn Bock (UIUC), Dan Collins (OSU, Slavic), Shelome Gooden (Univ. of Pittsburgh; OSU '03), John Hale (MSU), David Harrison (Swarthmore), David Odden (OSU, Linguistics), Dennis Preston (MSU), Craige Roberts (OSU, Linguistics), among others.
Of course, we can't work all the time so we also enjoyed, among other activities, Happy Hours in the department lounge the first Friday of each month, a picnic in Whetstone Park, a dessert party at Chris Brew's house, chocolate making at Beth Hume's house, and an end-of-the year cookout at Julie McGory's home.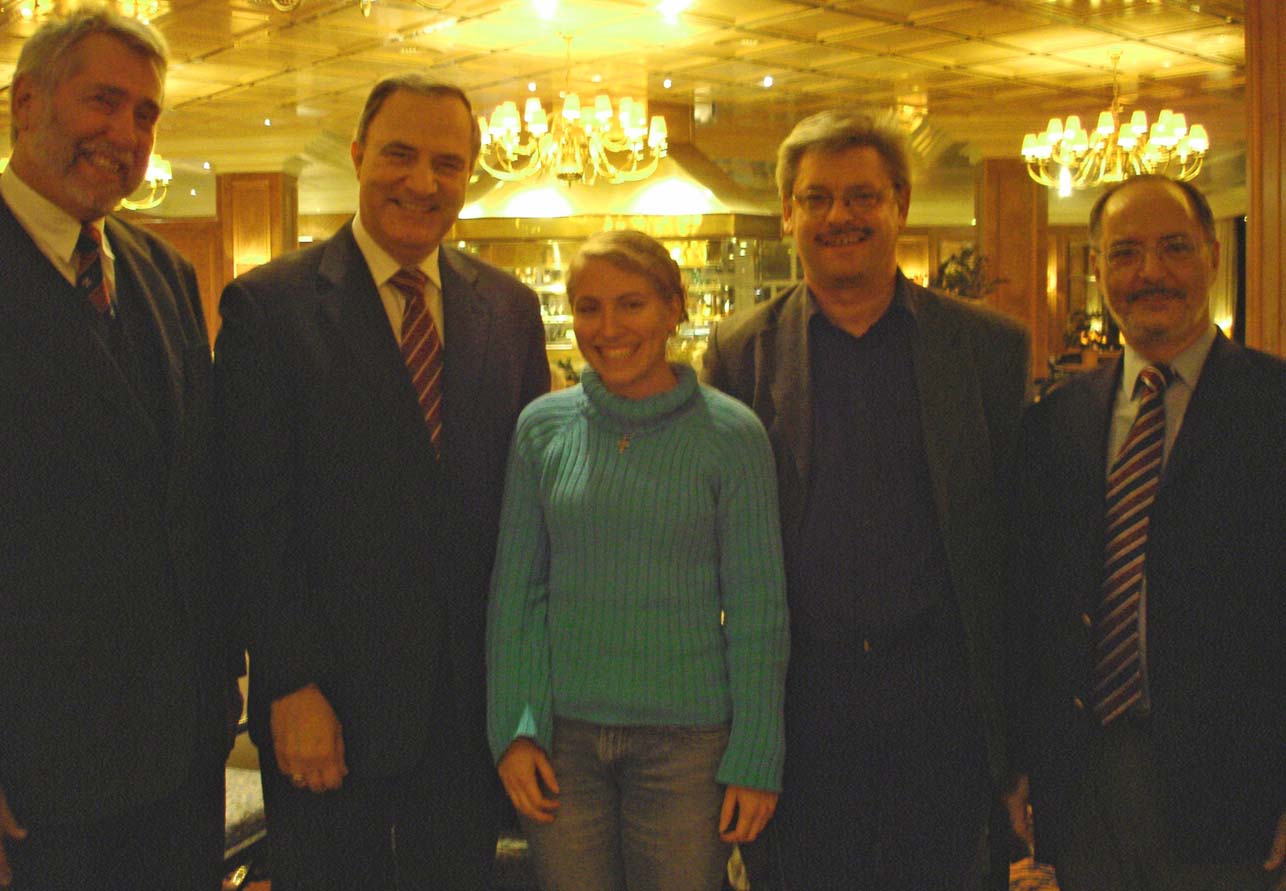 Undergraduate student,
Samantha Gett
, and Maltese dignitaries at the 1st Meeting of the Maltese Linguistics Society in Bremen, Germany, Fall '07
Excellence in research and teaching continues to define Linguistics at OSU. As you'll learn below, an impressive number of the department members, undergraduate students, graduate students, and faculty were honored for their accomplishments in teaching and research throughout the year. The OSU Graduate School also ranked the Department of Linguistics as one of the top 12 programs at OSU in its recent Assessment of Graduate Programs (not that we were surprised! :).
Linguistics at Ohio State extends well beyond the Department of Linguistics. In fact, there are close to 60 faculty from more than 14 departments who study language at OSU and these individuals make up the Buckeye Language Network. Building on the success of the first BLN Symposium, many faculty and students got together this past winter for a stimulating and productive workshop with the goal of generating new ideas about how to enhance interaction and collaborations among those who study language at OSU. Among the top priorities identified at the workshop was the development of a graduate interdisciplinary minor in language sciences, which we hope to have approved by the end of this coming academic year.
This year is looking to be just as active as the current one! This summer alone we hosted the 46th Annual Meeting of the Association for Computational Linguistics, the Linguistic Society of America 2008 Summer Meeting for undergraduate and graduate students, and a Summer Mini-Institute featuring the following workshops:
Quantitative methods for linguistics (Mary Beckman)
ToBi labeling (Julie McGory)
Corpus-based Computational Linguistics (Chris Brew and Mike White)
Eye-tracking methodology (Kiwako Ito and Shari Speer)
Methods of Analysis in Sociophonetic Research (Robert Fox, Ewa Jacewicz and Joseph Salmons)
We depend on the financial support of past and present members of the Department to fund many of these activities. Over the past year, we used contributions to bring in visiting scholars to give lectures to the Linguistics community. Your support also allowed us to reinstate the Emeritus Lecture Series in honor of our Emeritus faculty and to provide funds to undergraduate and graduate students to assist them with research expenses such as subject fees, language consultant fees, conference support and conference poster printing. Please contribute to the Department to the extent that you are able; your support is crucial to its continued success!






To donate, click on the iGive icon above.
I hope you enjoy reading about OSU Linguistics in this issue of the newsletter and, as always, welcome your comments and suggestions, which can be sent to lingalumni@ling.osu.edu
Go Bucks!

Beth Hume, Chair