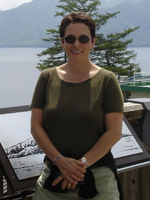 Beth Hume
It has been another exciting year in the Linguistics Department! In addition to the many conferences, workshops, and invited lectures that you'll read about in this issue, we were fortunate to have visiting scholars from around the world, including Dr. Maria Bittner (Rutgers), Dr. Hyeon-Seok Kang (Kaya University, Korea), Dr. Erhard Hinrichs (Tübingen) and Dr. Judita Preiss (Cambridge). The new academic year looks like it will be just as remarkable given the many events and visits being planned. There will also be some new faces in the Department. We are delighted that computational linguist, Dr. William Schuler, will be joining our faculty and we look forward to welcoming a stellar freshman class of ten new graduate students.
Maintaining our high standard of excellence requires the commitment and support of many people. As you read about all the wonderful happenings in the Department, I hope you will consider giving us your support. There is simply no way that we can be doing all that we do without the financial contributions of members of the Department and friends like you. Given the current economic climate, your support is more crucial than ever. Without it, activities such as those noted below would just not be possible. I hope that we will be able to count on your commitment to the Department for this coming year.
Enjoy reading about OSU Linguistics in this issue of the newsletter. As always, welcome your comments and suggestions, which can be sent to lingalumni@ling.osu.edu or to me directly.
Go Bucks!

Beth Hume, Chair






To donate, click on the iGive icon above.
Ilse Lehiste Wins Wiedemann Award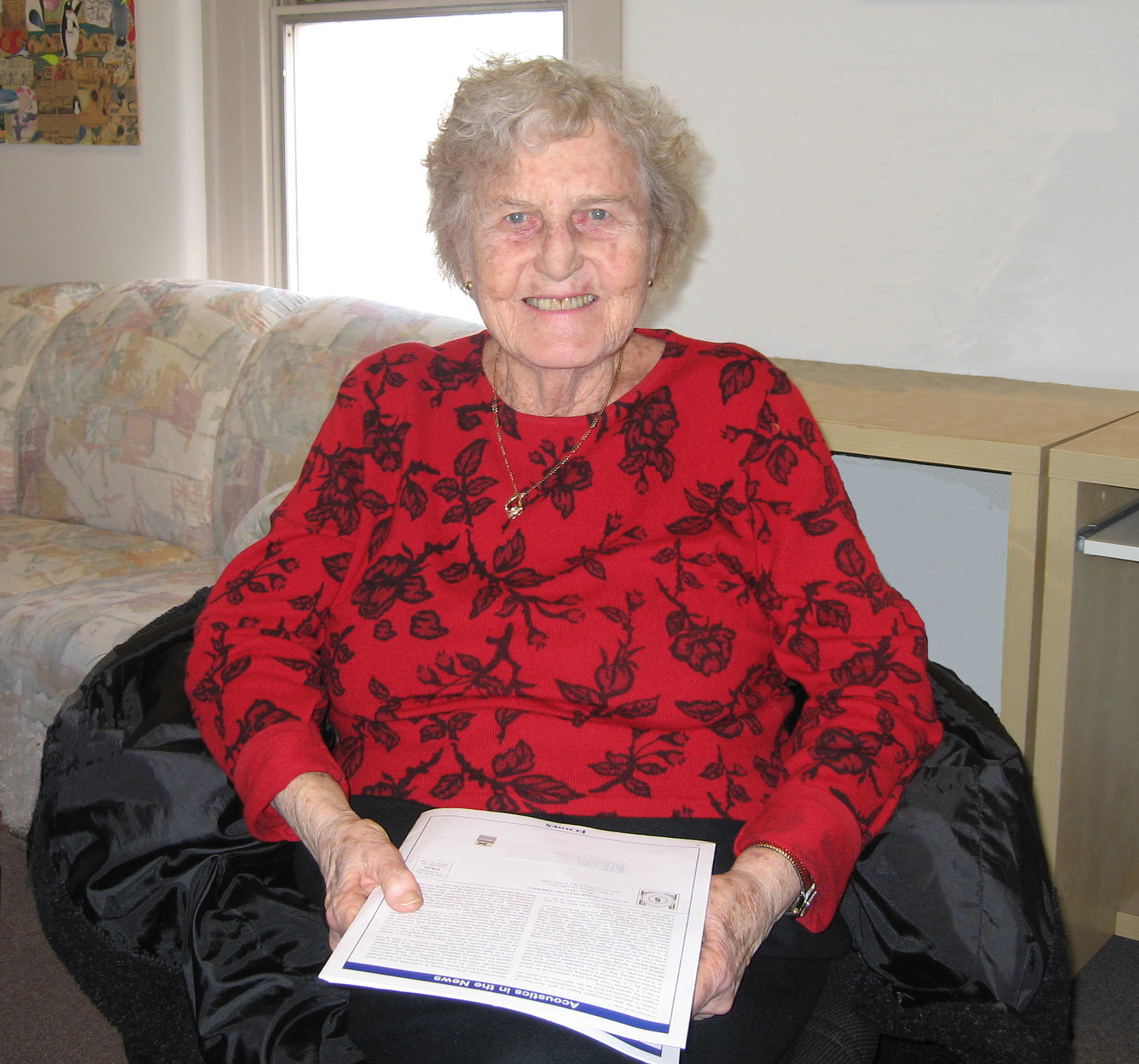 Ilse Lehiste
We want to congratulate Professor Emeritus Ilse Lehiste for receiving the Weidemann award given by the government of the Republic of Estonia once a year for "outstanding contributions to research on Estonian language, for developing Estonian linguistics, for providing successful scholarly leadership, for bringing international attention to the Estonian language, and for literary activity in the Estonian language". The award is 500,000 Estonian crowns (approximately $50,000)
The award is named after Ferdinand Johann Wiedemann, Estonian linguist of the 19th century. He started out as a high school teacher of Greek and Latin, but ended up as a member of the Imperial Academy of Sciences in St. Petersburg. (Estonia was part of the Russian Empire at that time.) In the 1860's he published a comprehensive Estonian-German dictionary (more than 50,000 words), an extensive Estonian grammar, and a collection of folklore and ethnographic observations. The dictionary has been reprinted many times. From a linguist's point of view, it is a source of evidence for language change. For example, there was a process of initial cluster simplification in loanwords - in Estonian, Germanic strand was borrowed as rand etc. The process has stopped, and newer loanwords come into the language with intact initial consonant clusters. Wiedemann's dictionary gives parallel forms for many words, so the loss of the rule was more or less in progress 150 years ago. (The same process applied in Finnish, but Finnish is more conservative - Estonian klaas is Finnish las, both from Germanic glass).
Professor Lehiste was awarded the Distinguished Research Award, The Ohio State University in 1980, and the Medal for Scientific Achievement, The International Speech Communication Association in 2002. She is also a Fellow at The American Academy of Arts and Sciences, 1990; a Foreign Member, The Finnish Academy of Science and Letters, 1998; and a Foreign Member of The Estonian Academy of Sciences; 2008. The awarding ceremony for the Wiedemann Award was on February 23, 2009 in Tallinn, Estonia.
David Dowty awarded Festschrift in honor of his 60th birthday!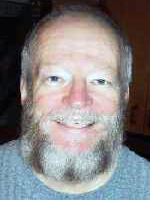 David Dowty
Professor Emeritus David Dowty was presented with a Festschrift in honor of his 60th birthday. Erhard Hinrichs and John Nerbonne (eds.) Theory and Evidence in Semantics. CSLI Press, Stanford. Articles included are "Know-how: a compositional approach", Craige Roberts; Erhard Hinrichs, "Selectional preferences for anaphora resolution", with Holger Wunsch); Peter Lasersohn , "Compositional interpretation"; John Nerbonne, "Quantatively detecting semantic relations", with Tim van de Cruys; Gregory Stump, "Cells and paradigms in inflectional semantics"; and Neal Whitman, "Right-Node Wrapping".
Sharon Ross Wins Graduate Associate Teaching Award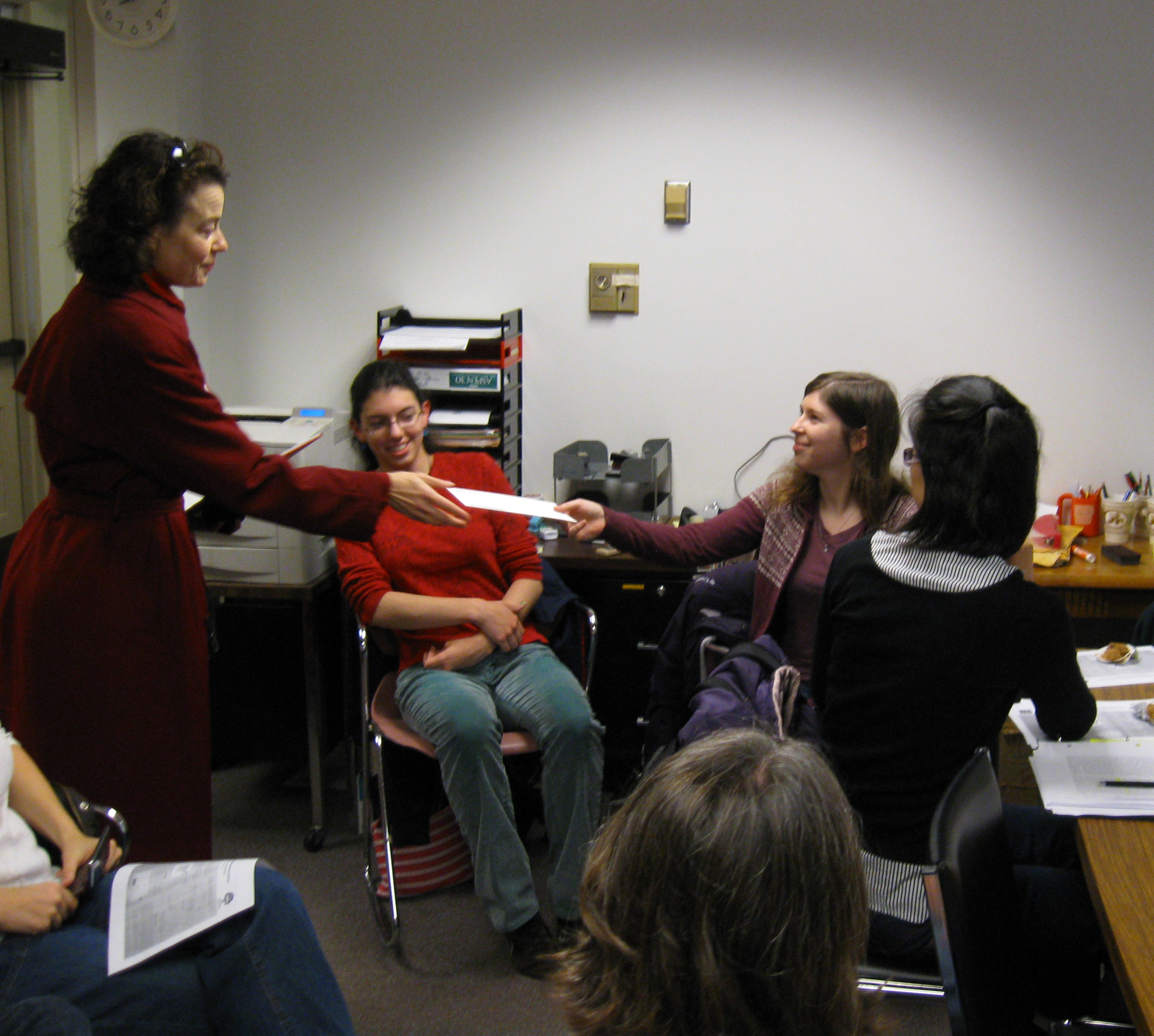 Sharon being presented her award while teaching one of her classes.
Congratulations to Sharon Ross, one of only ten OSU Graduate Teaching Assistants to win the Graduate Associate Teaching Award for 2008-2009! The GATA award is Ohio State's highest recognition of the exceptional teaching provided by graduate students; winners were selected by the Graduate School's awards committee. Sharon received public recognition during the Graduate School Awards Reception in May and received a $1500 honorarium with her June stipend.
We also want to congratulate Vedrana Mihalicek for winning the Linguistics 200-Level Teaching Award and Crystal Nakatsu for winning the Linguistics 300-Level Teaching Award! Great job ladies!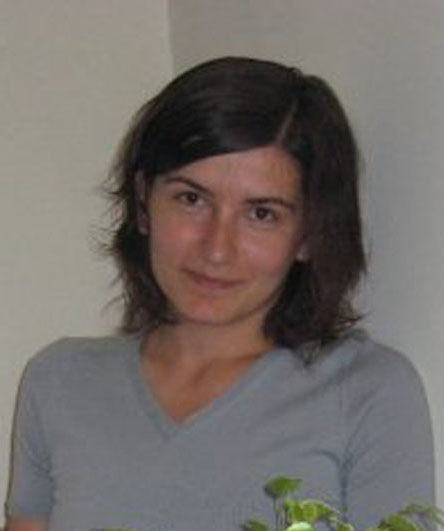 Vedrana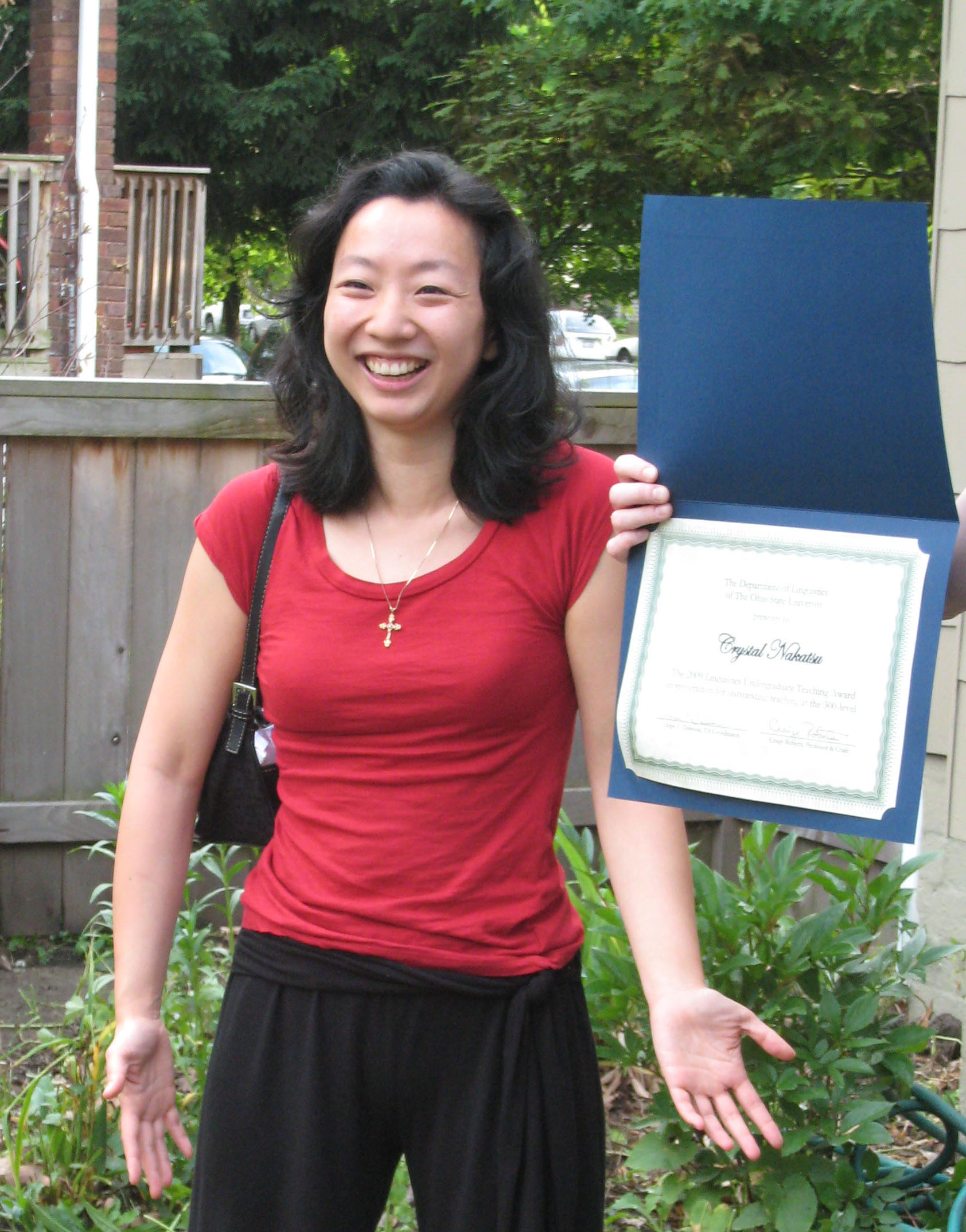 Crystal
Teresa Pratt Wins first place in the Denman Undergraduate Research Forum
Congrats goes to Teresa Pratt who won in the Social and Behavioral Sciences category. She, with the guidance of her advisor, John Grinstead, Spanish and Portuguese, presented the poster "Root Nonfinite Verb Forms in Child Spanish."
Well done to our other undergraduate students who participated in the Denman. What pride these students have given us! Each did an excellent job of presenting their work and exhibited confidence, intelligence, and mastery over the research they had completed. Thank you all for your hard work and your excellence!
Sarah Bibyk - "The Effect of Intonation on Children's perception of Contrast." Advisor, Shari Speer.
Emily Dorrian - "Child Dialect Acquisition." Advisor, Laura Wagner.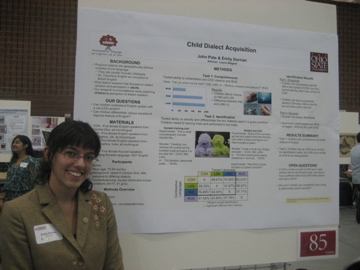 Emily Dorrian
Samantha Gett - "Vowel Duration in Maltese [gh]." Advisor, Beth Hume.
Christina King - "Language Attitudes Toward Devoicing Among Young Adults in Buenos Aires." Advisor, Terrell Morgan.
John Pate - "Child Dialect Acquisition." Advisor, Laura Wagner.
John Pate - "Stressed-Out Networks: Extending Models of Word Segmentation with Prosody." Advisor, Chris Brew.
Cory Shain - "Differential Object Marking in Paraguayan Guarani." Advisors, Peter Culicover and Judith Tonhauser.
Cory Shain